Director
Bishop Robert McGuckin is the sixth Bishop of the Catholic Diocese of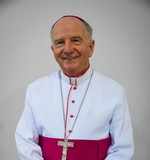 Toowoomba and has held the position since 2012.
Bishop Robert was born in 1944 in Marrickville, Sydney and received his early education at St Pius Primary School in Enmore and later at De La Salle College in Marrickville.
He worked for several years in banking before entering the seminary at Saint Columba's College in Springwood in 1967 and then to Saint Patrick's College in Manly as a candidate for ordination for the Archdiocese of Sydney and was duly ordained in 1973 by Archbishop James Carroll. In the Archdiocese of Sydney, he served in the parishes of Matraville, Dulwich Hill and Mascot and was appointed to the Regional Tribunal of Sydney in 1975. He undertook postgraduate studies in Canon Law at the University of St Paul Ottawa Canada.
On the division of the Archdiocese of Sydney in 1986, he ministered in the Diocese of Parramatta where he was incarnated in 1993. Whilst appointed to the Tribunal, he assisted in the Parish of St Michael in South Blacktown. He was Vicar for Religious 1990-2010 and Diocesan Administrator in 1997. He was Vicar General and Moderator of the Curia through 1997 until his appointment to the Diocese of Toowoomba.
Bishop McGuckin obtained degrees in theology and church law and has taken an active role in the Canon Law Society of Australia and New Zealand, including lecturing in the School of Law at the University of Notre Dame Australia.
In 2011, the Bishops of the Province of Sydney and Archdiocese of Canberra and Goulburn appointed him as Judicial Vicar of the Regional Tribunal for New South Wales and the Australian Capital Territory and he was named by Pope Benedict XVI as a Prelate of Honour of His Holiness.
Bishop McGuckin's episcopal ordination as the sixth Bishop of the Catholic Diocese of Toowoomba took place at St Patrick's Cathedral, Toowoomba on 11 July 2012.