BBI-TAITE's lifelong friendship with alumni Darrin Patterson
12 October 2018
For Mike Foley and Dr. Antoinette Collins it was with real joy, and a sense of pride to be invited by Darrin Patterson and his wife Irene to Darrin's Master of Theology September graduation at the University of Newcastle (UoN).
Mike had lectured and tutored Darrin in two of his Masters units (Christology and Ecclesiology) during 2016/17.  But their contact and friendship went back further.  Early in 2013 they both met at a BBI-TAITE open day held on our famous 8th floor of the Caroline Chisholm Centre at Pennant Hills.
These open days were an initiative of the BBI-TAITE's academic faculty to bring together students and staff who would normally have only limited opportunity to catch up face to face because of the online nature of the course delivery.
For a number of years the open days were one of the highlight of the academic year and Mike remembers the many conversations he had with students such as Darrin. Conversations in which hopes, and dreams were shared and planned for.  With this year's final UoN /BBI-TAITE  graduation many of these dreams have now become a reality in the lives of our students, their families and love ones.
Mike and Antoinette, Darrin and Irene, along with many of the past and present BBI/TAITE staff, look forward to lifelong friendships and ongoing support of our many students as they venture into their different careers and ministries.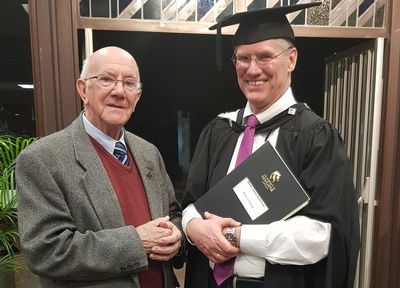 Left: Father John Frauenfelder (principal of BBI-TAITE)
Right: Darrin Patterson (BBI-TAITE Alumni)
Back