Member
Bishop Peter Stuart is the Bishop for the Anglican Diocese of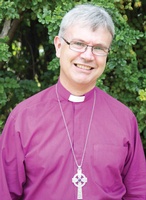 Newcastle.
Bishop Peter came to the Diocese in 2009 after serving in ministry in Tasmania and South Australia. In 2013 he administered the Diocese following Bishop Farran's retirement. Since December 2016 he has been leading the Diocese on behalf of Bishop Thompson. He became Administrator of the Diocese on 1 June 2017.
Bishop Peter was born in England in 1963 and emigrated to Cabramatta in 1971. He has since lived in Tasmania, Victoria and South Australia before returning to NSW.
He is a graduate from the University of Tasmania (Bachelor of Commerce), the Melbourne College of Divinity (Bachelor of Divinity), the University of Technology Sydney (Master of Management) and Flinders University (Doctor of Education).
Prior to becoming a bishop he was involved in parish and diocesan ministries including ministry development, theological education and administration. He has served parishes in rural, suburban and inner-city settings. From 2002 until 2009 he was the Principal of St Barnabas Theological College Adelaide where he taught practical ministry, missiology and sociology for ministry.
He is passionately committed to the inclusion of all people as equal citizens. He was the inaugural Chair of the Julia Farr Association in Adelaide, a non-government organisation serving the disability community. From 2009 until 2017 he was the Chair of the Samaritans Foundation in Newcastle.
Bishop Peter is married to Nicki and they have two adult children.