Director


BBus (Accountancy)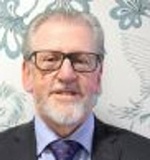 Mr Goad retired from the position of Senior Advisor to the Group Chief Executive Officer for Mercy Health in late May 2021 to take up a role as a Trustee/Director of Mercy Ministry Companions which is a new Ministerial Public Juridic Person formed by the Institute of the Sisters Mercy Australia and Papua New Guinea.
Mr Goad previously held the position of Group Executive Director, Finance and Corporate Services for Mercy Health, a role he served in from June 2011 until December 2018.
Mr Goad has more than 25 years' experience in the health, aged and other care services sectors through both executive positions as well as in consulting and corporate advisory roles.
Prior to working in the health sector, Mr Goad undertook, for more than 12 years, various executive and consulting roles in the banking, finance and the merchant banking industry.
Mr Goad has previously served as a board member of the Mental Health Legal Centre and as a member of the governing council of the Victorian Institute of Forensic Mental Health.
Mr Goad became a director of BBI-TAITE in March 2018.