Almost 100 BBI-TAITE students graduate at University of Newcastle
20 April 2018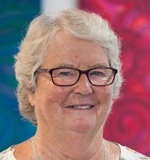 It was a great pleasure to witness the wonderful Graduation Ceremony at University of Newcastle on Thursday 12 April. The graduation booklet and the Chancellor reminded those present of the impressive achievements of the University Students and staff: top 1% of universities in the world; top 8% in Australian Research 'well above world standards'; alumni are based in one hundred and forty five countries around the world. Another impressive statistic is the fact that there were eleven Graduation ceremonies (3 a day) indicative of the number of students. Each of these daily ceremonies had over twelve PhD students and 5 University medals were awarded.
Of interest to BBI were the twenty eight graduands with Master of Theology (distinction) ninety one with Master of Theology. Sixty three other students gained their Graduate Certificate. The staff present met with some of these students and celebrated their success with mini chaps and congratulatory cards. One Ph. D student known to BBI was Di Rayson whose Ph D thesis topic was Bonhoeffer's theology and Anthropogenic Climate Change: in Search of an Ecoethic which skillfully combined three important foci: Bonhoeffer's theology, climate change and ethics.
The above statistics, while impressive, are not the whole story. The prodigious range of topics at all degree levels, apart from the traditional Education, Science, Medicine, Law and Business, include Disability Studies, Social Change and Development, Mental Health, Aboriginal Studies all point to an emphasis on, dare I say it, more important issues that affect our lives. Hopefully those who study these 'different' topics will influence policy and decision making by leaders who sometimes neglect the 'orphan issues' in the pursuit of money and notoriety.
The semi-rural feel of the University of Newcastle campus was a fitting ambience for so important an occasion. Excited students, even more proud parents, partners and children were everywhere to be found. One blight on the wonderful outdoor setting was the omni presence of giant mosquitoes. Thoughtfully the University staff had supplied, what seemed like, hundreds of spray cans of insect repellent and equally generous supplies of water dispensers. However, neither the mossies nor the extreme heat could dampen the celebratory atmosphere. The cavalcade of shuttle carts from the car parks to the Great Hall was an added indication of the University personnel 'pulling out all stops' to make the day memorable and a fitting tribute to the years of hard work, sometime heart ache and final jubilation.
One of the medal winners succinctly summed up the task of education – choose the harder road for a more rewarding and satisfactory end of the academic journey. Maybe this is also applicable to all life choices. Robert Frost in his poem The Road Not Taken, 1915, put it this way:
…I shall be telling this with a sigh
Somewhere ages and ages hence:
Two roads diverged in a wood, and I-
I took the one less travelled by,
And that has made all the difference

Article written by Dr. Catherine Thom RSJ
Back