BBI-TAITE signs landmark agreement with Catholic Schools in Wagga Wagga
01 February 2018
Teachers and senior educational leaders in Catholic schools in the Diocese of Wagga Wagga will benefit greatly from expanded opportunities to gain postgraduate accreditation through a new agreement with BBI–The Australian Institute of Theological Education.
Under a new Memorandum of Agreement, BBI-TAITE will be the preferred provider of postgraduate qualifications across not only Religious Education but Leadership & Theology as well in Catholic schools in Wagga Wagga to help staff meet accreditation requirements under the Accreditation Framework for Catholic schools in NSW.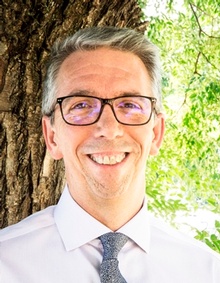 The Assistant Director of Schools: Catholic Life and Mission in the Catholic Schools Office, Wagga Wagga, Mr Christopher Cotter (pictured left) said "What we admire most about BBI-TAITE is its willingness to listen to our needs and implement flexible, dynamic programs with rigorous standards and highly qualified lecturers who appreciate the mission and purpose of Catholic education."
Under the new agreement, BBI-TAITE students in Wagga Wagga will benefit from an expanded face-to-face seminar program which will complement their online learning in Religious Education and Leadership & Theology.
"And we're particularly excited to welcome the internationally respected theologians, Professor Massimo Faggioli and Professor Richard Lennan to one of these seminars in Trimester 2 on Leading Ecclesial Communities: Foundations, Challenges and Future", Mr Cotter explained.
BBI-TAITE's Principal & CEO, Dr Gerard Goldman said the new agreement with the Catholic Schools Office in Wagga Wagga was a major breakthrough.
"As we're now in our 2nd year as a Higher Education Provider, we're delighted to see our Leadership & Theology programs gaining more interest in Catholic schools as we build upon our traditional strengths in Religious Education and Theology", Dr Goldman explained.
"We've also expanded the electives we have on offer this year so that leaders in Catholic education will also be able to undertake subjects in Governance & Canon Law", he added.
The Catholic Schools Office, Wagga Wagga said it is also looking forward to strengthening research partnerships with BBI-TAITE. Head of Religious Education and Director of Research, Professor Richard Rymarz has conducted a number of studies involving beginning and early career teachers in Wagga Wagga and there are plans underway to expand this research into the beliefs and values of parents as well.
"We also see a lot of longer term potential in encouraging our school staff to undertake immersion experiences such as pilgrimages to the Holy Land and World Youth Day and to then link these experiences in with their postgraduate studies with BBI-TAITE through a dedicated immersion unit", Christopher Cotter added.
Back