Catholic Schools Office Maitland-Newcastle celebrates 20 year partnership with BBI-TAITE
07 February 2018
BBI-The Australian Institute of Theological Education (BBI-TAITE) is set to reach a major 20 year milestone in its partnership with the Catholic Schools Office in Maitland-Newcastle after signing a new five year agreement.
Teachers in Catholic schools across the Diocese of Maitland-Newcastle will benefit from the new agreement covering the delivery of face-to-face and online seminars under the Graduate Certificate in Religious Education program from 2018–2022.
The first agreement between the then Broken Bay Institute and the Catholic Schools Office was signed in 2003, less than six months after the Institute opened and the new agreement therefore extends the partnership to 20 years.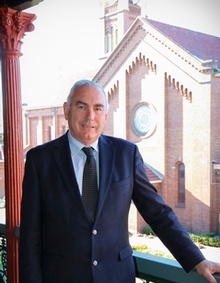 "We owe a great debt to BBI-TAITE and the remarkable work the Institute has done in providing high quality postgraduate programs to help staff meet their accreditation requirements in Catholic schools over recent decades", explained the Director of the Catholic Schools Office in Maitland-Newcastle, Dr Michael Slattery (pictured on the left-photo: courtesy of Diocese of Maitland-Newcastle).
Dr Slattery said he has experienced first-hand the benefits of studying with BBI-TAITE having undertaken a Master of Theological Studies with the Institute while he was a Religious Education Coordinator and a Principal in Catholic schools in the Diocese of Broken Bay.
"The degree helped prepare me very well for senior leadership roles in Catholic education (including as a Principal) because of BBI-TAITE's emphasis on linking theory to practical experience in the school context and enhanced through the convenience of online and face-to-face study", Dr Slattery added.
The Head of Religious Education and Director of Research at BBI-TAITE, Professor Richard Rymarz will be delivering the first seminar in 2018 to students in the unit, Religious Education: Theory & Practice on 2–3 March in Newcastle.
"We are very excited about the prospect of building upon our partnership with Catholic schools in Maitland-Newcastle over the next five years and equipping school staff with fresh insights based upon the latest research on what works well in contemporary RE classrooms and with contemporary RE teachers", Professor Rymarz said.
Students in the Graduate Certificate in Religious Education will also benefit from another face-to-face seminar at the start of Trimester 2 in the unit, Foundations for Theological Studies, led by Theological Studies Lecturer, Dr Dianne Rayson.
The Founder of BBI-TAITE and its Current Chair, Emeritus Bishop David Walker said the partnership with the Catholic Schools Office in Maitland-Newcastle has benefited generations of teachers and school leaders.
"It's a very long standing and mutually beneficial partnership which has helped to greatly enhance the professional formation of staff in Catholic schools and it is very encouraging to see it continue to grow and flourish over coming years", Bishop Walker added.
Back