Exciting new Study Pathway for BCE Graduate Teachers
22 March 2018
To help meet the needs of busy teachers, Brisbane Catholic Education has formed a new partnership with BBI-The Australian Institute of Theological Education (BBI-TAITE), streamlining the accreditation process in Catholic schools.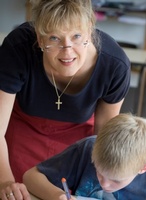 Religious Education Accreditation Program (REAP)
The Archdiocese of Brisbane requires Religious Education teachers in Catholic schools to have four tertiary units in Religious Education, Spirituality and/or Theology.
REAP In-Service is a four day course, run by Brisbane Catholic Education (BCE), which delivers one unit.
BBI – TAITE provides academic credit for the REAP unit into the Graduate Certificate in Religious Education, comprising four units. Students are only required to undertake three units, which can be completed 100% online, in 12 – 18 months of part-time study (six months full-time).
Through this program, teachers gain accreditation to teach in a Catholic primary school or accreditation to teach Religious Education in a Catholic secondary school.
This qualification is recognised by most Catholic dioceses across Australia.
Enquiries
Brisbane Catholic Education Office: REAP
Cath Rodden- 07 3033 7518
E: crodden@bne.catholic.edu.au
BBI-TAITE:
Cheryl Martin, Manager Student Services- 02 9030 8638
E: studentservices@bbi.catholic.edu.au 
Back