Adult Faith Online is a series of short, online courses which focus on aspects of our faith and require reading, listening and reflection.
Like a book club, you can discuss ideas in an online community or create your own adult faith study group. Adult Faith Online can also be used for staff accreditation of both teaching and non-teaching personnel in Catholic schools.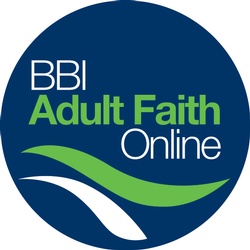 New BBI – TAITE Adult Faith website
BBI – TAITE's new Adult Faith website is live. There are currently 4 freshly created courses available to enroll in with many more new ones to be added in the future.
Prayer Matters – A short course about prayer, various ways of praying and why it all matters.
Divine Footprints – Seeing some of the ways God walks with us in our everyday life.
Becoming Church – A fresh perspective on the Living Body of Christ.
Treasures of the Tradition I: Hildergard of Bingen and Catherine of Siena – the Christian spiritual tradition and learn how their wisdom can enrich our lives today.
To view the courses available on the new website go to www.bbiadultfaith.catholic.edu.au.
Our current Adult Faith courses listed further below are still available to enroll in while we transition them to the new website.
Who is Adult Faith Online for?
All staff in Catholic schools, school boards, Catholic hospitals, Catholic aged care
Parishioners involved in ministry, Parish Pastoral Councils, other Parish staff
Individuals, parishioners interested in spiritual enrichment and education
Groups of parishioners, catechists, scripture study groups, book clubs and religious communities
Flexible affordable online courses
Learn for pleasure with no assessment or exams
Available to anyone with a computer and internet
Student-centred learning with support from a BBI-TAITE Adult Faith Educator
Concise learning – courses take 6 to 8 hours to complete
Flexible –join anytime of the year, do one course or all of the courses
Many Catholic Education Offices (CEOs) and Catholic Schools Offices (CSOs) across various Dioceses in Australia have implemented an Accreditation Framework for Catholic schools whereby all staff, including teachers, non-teaching staff, coordinators and those in school and system leadership, are required to undertake ongoing formation.
The Adult Faith Online courses offered by BBI – The Australian Institute of Theological Education (BBI-TAITE) provide schools with a ready-made pathway to offer teaching and non-teaching staff ongoing formation in Religious Education and Catholic Identity.
To find out more about using Adult Faith Online for staff accreditation, please contact BBI-TAITE on 02 9847 0030.
Adult Faith Online courses are flexible and affordable. You can enrol any time during the year.
For enrolment enquiries, please contact Belinda Srour at adultfaith@bbi.catholic.edu.au or call +61 2 9847 0590.
Course Costs
Individuals:
First course: $60.50 ($55 + GST $5.50)
Second course: $55.00 ($50 + GST $5.00)
Subsequent courses: $49.50 ($45 + GST $4.50)
Discounts apply after completing the first topic if other topics are undertaken within 18 months.
Groups of 10:
$495 per course (a saving of $100)
Please note, courses must be completed within six months for individuals or within one year for groups of 10 or more, from the date of enrolment. Additional fees may apply if courses are not completed within this timeframe.
Please save this form onto your computer, fill out the required information in the fields provided, and email to bsrour@bbi.catholic.edu.au
Spirituality for Today (AFO0002)

This course gives a variety of introductory perspectives on Christian Spirituality.

Objectives:

To give a broad overview of the meaning and scope of Christian Spirituality

To give an introductory understanding of some key traditional and contemporary elements in Christian Spirituality

To introduce a range of influential spiritual writings

To suggest practical ways to live "spiritually" today

The four sections of study:

What is "Spirituality"?

From the Past: Significant insights into Christian Spirituality from some important spiritual authors across the centuries

Contemporary Approaches: Spiritual insights of today

Living spirituality

Spiritual Formation and Pastoral Care (AFO0005)
Spirituality is a broad term that encompasses a wide range of attitudes. This module considers the historical and cultural influences that have shaped our current understanding of Christian spirituality.

This course examines Christian spirituality, holiness and mystery and introduces ways to creatively and deepen spirituality.

It looks at how spirituality leads to pastoral witness and how this care is carried out to meet contemporary needs of people.

Objectives:

Reflect on the traditional and contemporary understandings of spirituality.
Understand approaches and practices that enable Christian spiritual growth and contemplation.
Define pastoral care as understood by the church.
Show that Christian Spirituality leads to an active life of Pastoral care.

The four sections of study:

Defining and Experiencing Spirituality
The Spiritual Journey
Active Spiritual Dimension: Pastoral Care
The Spirit of Pastoral Care

The Word of the Lord: Introducing the Scriptures (AFO0004)
This topic is a general overview to Scripture and its significance for Catholics. This topic will use a three-fold approach: Read, Study, Pray.

This course briefly covers:

A General overview of the Bible and its context
The Old Testament
The New Testament
Scriptures and the Church

Throughout the 4 sessions of this topic, we will be hearing from Australian theologian Fr John Thornhill sm.

Objectives:

To offer an overview of the Christian Scriptures and Church Teaching about them.
To give an introductory understanding of how to read Scripture.
To provide practical methods and opportunities to pray with Scripture.

The four sections of study:

The Word of the Lord: Introducing The Scriptures
The Old Testament
The New Testament
The Scriptures and the Catholic Church

Introduction to the Old Testament (AFO0003)
After studying this course students will be able to confidently read the Old Testament texts from a fresh perspective and understand more about their importance to us in understanding the Bible as a whole.

In this course we will be exploring the First Testament, what it is, who wrote it, the world/s of those authors and why the First Testament is important to us as Christians.

Objectives:

At the completion of this course you will be able to:

Have a working knowledge of the structure of the First Testament
Understand some of the theory behind the composition of the Torah
Understand some of the historical contexts in which the First Testament was written.

The five sections of study:

What is the First Testament?
Why the First Testament is important to Christians.
Overview of the Books of the First Testament.
Who wrote the First Testament?
The World of the First Testament Writers.

The Gospel of Mark (AFO0006)
This topic offers an introduction to the Gospel of Mark, with reference to its social and cultural context and a focus on the way the gospel unfolds as a narrative. It introduces key Markan themes, such as discipleship.

Objectives:

At the completion of this course you will be able to:

exercise skills in reading a gospel narrative attentively
be familiar with key aspects of the narrative of Mark's gospel, such as its plot, characterisation and the role of conflict in the story
continue to explore important Markan themes, such as discipleship

The four sections of study:

The story begins – introduction to the Gospel of Mark; the prologue, Mark 1:1-13; tools for reading a gospel narrative attentively
The story continues – the Galilean ministry, Mark 1:14–8:21; elements of plot, character, conflict
The story continues – the "Way" to Jerusalem, Mark 8:22-10:52; the theme of discipleship; "who do you say that I am?"

The story goes on – Jerusalem, Mark 11:1-13:37; Jesus' passion, death and the empty tomb, Mark 14:1-16:8

Doing Practical Theology: Vision, Reflection and Action (AFO0001)
This course will introduce the student to the method of practical theology.

The aim of this course is to enable you to apply the method of practical theology in a way that is personally enriching.

Objectives:

At the conclusion of this topic, you will be able to:

demonstrate the difference between theology and practical theology;
appreciate that all theologies should have a practical or pastoral dimension; and
apply an appropriate set of practical theological methodologies to analyse a particular theological or sociological disjoint.

The five sections of study:

What is Practical Theology? A Theoretical and Historical Backdrop
Vision: Planning for necessary action
Action: "Righto, what should we do with it?"
Reflection: Reflecting theologically
Optional: Supplementary Resources

Introduction to Ecological Theology (AFO0011)
This topic offers an introduction to ecological theology (or ecotheology). It presents aspects of Christian theology, creation, incarnation, and hope for the future, in the light of Pope John Paul II's call for an ecological conversion. It offers a method of reflection (experience; biblical reflection; theological reflection; action reflection) for Christian ecological engagement.

Objectives:

At the completion of this course you will be able to:

reflect on and articulate some contemporary areas of environmental or ecological concern (including loss of biodiversity, overconsumption and climate change)
make links between aspects of Christian theology and Earth care
consider appropriate Christian individual and communal action for Earth care

The four sections of study:

An Ecological Conversion
Creation and Biodiversity
Jesus, Eucharist and Consumption
Christian Hope and Climate Change

Bread for Hungry Hearts (AFO0013)
This course gives a general insight into what we do when we gather for Sunday Eucharist and shows how we are sent forth to become 'bread' for those who hunger and thirst. Each session takes its stimulus from a song that will lead us deeper into the spirituality of Eucharist.

Throughout the 4 sessions of this Topic, we will draw inspiration from a DVD-Rom resource called "Become One Bread One Spirit in Christ".  The sessions take a four-fold approach: Listen, Read, Watch, Pray.

Objectives:

To explore current Catholic theology on the Eucharist.
To offer an insight into what we 'do' at Sunday Eucharist.
To discover the connections between Eucharist and how we live our everyday life.
To deepen the awareness of our baptismal calling nourished by a Eucharistic Spirituality.

The four sections of study:

Come and Eat This Bread
Jesus, You Are the Bread
Bread for the World
Wonderful Feast

Vatican II: A Call to Action (AFO0007)
This course will offer reading, reflection, some audio/video input and an opportunity to participate in online discussion. This topic offers a reflection on Vatican II 50 years on. We will reflect on the context of this historic event and some of the personalities involved; examine the Council writings; and consider the impact for ourselves and for the Church in the future. The topic will use a three-fold approach: Read/Listen, Reflect, Pray. Throughout the topic, we will be hearing from Australian theologian Fr John Thornhill sm.

Objectives:

To offer an understanding of Vatican II: its purpose and its outcomes.
To examine the writings of the Council.
To provide opportunities to reflect and pray.

The four sections of study:

Vatican II in Context: Sensing the Rhythms of the Time
The 4 Constitutions
The Decrees and Declarations
Window to the Future