Catholic Correspondence Courses provide non-academic adult faith education to students across Australia by distance education. Students can do as many or as few courses as they wish. Each course is an independent unit, although it is recommended to do an introductory unit before embarking on more detailed work.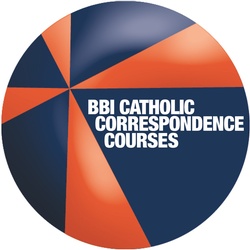 Zero technical requirements
Great preparation for tertiary study
Resources are posted to your door
Qualified academic tutors mark and review your work
You can enrol in Catholic Correspondence Courses at any time during the year.  For enrolment enquiries, please contact BBI-TAITE at bbienquiries@bbi.catholic.edu.au or on +61 2 9030 8638.
Course Costs
Australian Students: $275 per unit ($250 + $25 GST)
Overseas Students: $330 per unit ($300 + $30 GST)
Discounted Rate: $220 per unit ($200 + $20 GST)
The discounted rate applies to BBI-TAITE Graduates or Award Students, Broken Bay Parishioners and Senior Concessions.
| | |
| --- | --- |
| Course | Description |
| SRD100 – Christian Spirituality | This study in Christian spirituality offers you challenge and perspective.  It works to bring you to a closer understanding of your own spiritual journey, and place it within traditional and contemporary spirituality.  The unit outlines the fundamental beliefs that shape Christian spirituality with a view to current approaches.  It offers insights into the spiritual paths taken by others, and brings you further along your own stepping way. |
| SRD110 – Prayer & Prayerfulness | The unit Prayer and Prayerfulness is a place where we explore how our prayer can be more prayerful and we grow more fully into people of prayer.  In part this involves interpreting our prayer in view of the prayer experience of the Christian community across the ages.  We are able to identify patterns and contexts of prayerfulness while establishing the form and place of prayer in our own lives. |
| ERD101- Moral Decision Making | This unit on Moral Decision Making takes up the challenge of considering the Christian response to urgent matters of action and life, matters like the environment, society and family, domestic violence and racism.  Across the weeks you are able to bring together human reason, scriptures and tradition, and the sum of human experience with a view to a deeper appreciation of effective moral action. |
| ERD145 Christian Social Ethics | Our study in Christian Social Ethics is an invitation to enter the inspiration behind the development of the Christian view of justice.  This entails unveiling the ways in which systems and structures collude to allow injustice and poverty to flourish.  The challenge is to gain perspective on the Christian ideal of charity, and respond in action and prayer to the demands of love as bringing justice to the world. |
| LRD100 – Introduction to Liturgy | Introduction to Liturgy is an opportunity to gain an initial understanding of the nature of our liturgy and worship.  Across the pages and the exercises we glean an overview of the history of liturgy, the renewal introduced by the Second Vatican Council and ongoing developments.  In this you are introduced to the basic principles of liturgy, and invited to see how worship is seen as the source and summit of Christian life. |
| TRD123 – The Sacramental Life | Christian life and practice are infused with sacrament!  This study allows you to engage with the sense of sacrament confirmed in the liturgical renewal of Vatican II.  It brings to the fore a general understanding of sacramentality in life and faith, and moves to depth the seven sacraments we are so familiar with.  Along the way there is an appreciation of the symbolic nature of sacraments, and their application to our acts of faith and justice. |
| TRD131 Jesus – Centre of Faith | Christian faith takes its stand on the unique and irreplaceable significance of Jesus of Nazareth through the events surrounding his birth, life, death and resurrection.  Building from the base in the Gospels we explore the developments in understanding Jesus as the Christ as emerging ages and cultures throw up different questions and issues.  From here we can consider how the mystery of Christ has relevance for our world and contemporary cultures. |
| HRD111 – The History of the Early Church | Our study is a broad look at some of the ways that the church developed.  It began as a small group of Spirit-inspired followers announcing that Jesus of Nazareth had risen from the dead.  Our readings allow us to see how this movement took shape as an organization we now know as the Christian churches.  With this we can fathom the way that authority was understood with the turn to bishops, the divisions between laity and ordained, the discernment of doctrine and teachings.  These take place amidst martyrdom, the rise of monasticism, asceticism, and a growing body of scholarship |
| BRD106 Introduction to the Old Testament | The Old Testament is foundational for Christian faith and is a powerful link to our Jewish heritage as a church.  A library of books, it comprises a wonderful array of genres, including song, poetry, story, lament, worship, historical narratives and law codes.  Sometimes all in the one book!  This unit provides a guide to studying the diverse literature and unpacking its literary forms and their relationship to the life of Israel.  With this comes an appreciation of the teachings and theology contained within the many books, their place within Christian thought, and promise for our spiritual and ethical growth. |
| BRD126 The Psalms | The Psalms are the great song book of the church, filled with poetry and prayer.  They find their origins in the worship and song of the Jewish people, were prayed by Jesus, and brought into Christian practice by the first Christians. This study allows you to become more familiar with the psalms and recent scholarship.  It provides an opportunity to appreciate their poetry, identify the different types and genres, and gain a sense of their life setting. |
| BRD153 The Gospel of Mark | The Gospel of Mark bristles with excitement and movement.  Its focus is unwaveringly on Jesus, his identity and attraction.  Our unit keeps you close to the text but informs your reading with scholarship that unpacks the call to discipleship which rings through the work, and the tensions this evokes.  The study allows you to apply these insights to our current situation, and develop a personal orientation towards the Gospel itself and the call to discipleship it entails. |