How to Download Panopto Lectures
---
Downloading Recorded Lectures from Blackboard
---
Step 1:
Log Into Blackboard
---
After logging into www.bbi.blackboard.com, enter your unit and click on Panopto Lectures from your Unit menu.
---
Step 2:
Click Panopto Content
---
Click on Panopto Content to display all available lectures.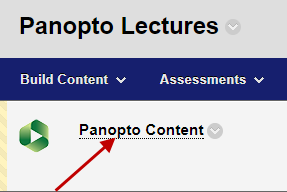 ---
By clicking Panopto Content, you will be presented with all available lectures for the unit. Click on the name of the lecture you wish to download.

---
Step 4:
Click Podcast Icon
---
To download the lecture, click on the download podcast icon located in the top right-hand corner of the screen.

---
All BBI-TAITE lectures are downloaded as an MP4 File.

---
Downloading Recorded Lectures from the Panopto App:
When you have logged onto the Panopto App, click on the download arrow to download the lecture to your device.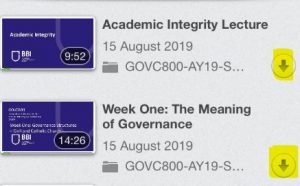 Back