How to submit an Assignment using Turnitin in Blackboard
---
Step 1
Click on Turnitin Assignment/s 
---
Locate Turnitin Assignment/s in the Unit Menu on the left hand side of the screen (under Assessment).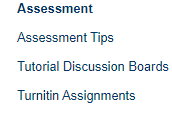 ---
Step 2
Click on View Assignment
---
Scroll down until you see the Turnitin Dropbox for you assessment. Click on the View Assignment link.

---
In the Submissions Inbox, click the Submit icon at the top left.  The Submit Paper dialog will open.

---
Step 4
Enter the Submission Title,
Choose File to locate the file you want to submit,
Tick the box next to Notice
and click Submit Paper
---
Enter a title for your assessment. This is usually the title of your paper or a combination of the unit and assignment name eg. 'Assessment Item One – Minor Essay'.
Click on Choose file to locate the file on your PC that you want to submit. Locate the file, select it and click Open.
Click the Notice button to declare that the work is your own.
Click on Submit Paper. A Digital Receipt pop-up will open showing the Turnitin submission id and Submission date of the assignment.
Click Print to print the receipt or Close to return to the Submissions Inbox, where you will see your assignment and the generated Similarity Report.

Back