Biblical
Hahn, Scott. A father who keeps his promises : God's covenant love in scripture. Ann Arbor, Mich. : Charis, c1998. [234.3 HAH 1998 ] – AVAILABLE IN PRINT AND AS AUDIO BOOK.
In this book the author paints the big picture of God's covenant love in salvation history. Join him as he reveals the high adventure of God's plan for humanity, beginning with creation and continuing through the generations to the coming of Christ and the birth of the Church. Along the way you will see how you, too, can trust God to keep his fatherly promises in your own life.
Hogan, A E. Enjoy the Good News : a New Testament guide. Hindmarsh, SA: ATF Theology, 2016. [225.7 HOG  2016]
This is not so much a book about the New Testament as a plan for reading all the books that go to make it up, roughly in the order in which they were written, with such additional information as to make available the message that each author intended to convey.
Little Rock Bible Studies. 
The library has a new selection bible studies for groups or individuals.  which contain, a DVD, commentary, study guide and answer guide.   The following studies are available:
Genesis, Luke, Mark, John, Revelation.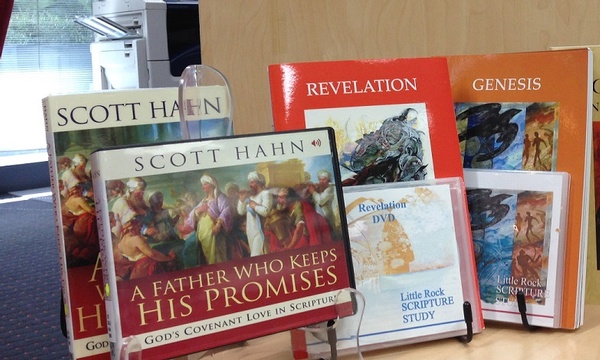 The kits are available for 8- 10 weeks.  It is recommended that all groups buy individual copies of the study guide.
Biography and History
Congar, Yves,  Diary of the 1914­-1918 War. ATF Press, 2016 [940.48 AUD CON 2015 ]         
Written as a young man in Sedan, in the eastern France, which was occupied by the German's in the First Wold War, Congar makes daily entries about the War. Written from the eyes of a child, the diary was found in his room in Paris after his death and published a few years later. The diary comes with the drawings, maps, and poetry he made as part of this daily entries.
Foale, Marie Therese, author. Never see a need : the Sisters of St Joseph in South Australia 1866-­2010.  Hindmarsh, SA. ATF Press, 2016. [271.97609 FOA 2016]
'Never See a Need' is an account of the lives and works of the Sisters of St Joseph of the Sacred Heart in South Australia from the time of their foundation in 1866 until Mary MacKillop's canonisation in 2010. Much happened during those 144 years. There were dark times and bright times, times of growth and expansion interspersed with times of decline, times of stability and times of change, and through it all, the members of the Congregation never forgot their call to do what they could to remedy the evils and ills of their society.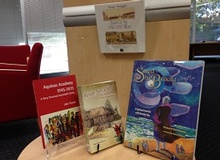 Girard, Charles (editor). Letters from the Marist missionaries in Oceania 1836­-1854. Adelaide : ATF Theology, 2015. [266.29 GIR 2016]
In 1836, the newly created Society of Mary receives from the Holy See the responsibility of evangelizing Oceania. Jean-Claude Colin, freshly elected Superior General, will eventually send 117 missionaries there. These men record what they observe, they meet, they record the works they undertake… in short, they write.
McGrath, Michael O'Neill.  Saved by beauty : a spiritual journey with Dorothy Day. [248.2 MCG DAY 2012]
Dorothy Day was an American journalist, social activist, generous humanitarian, and devout Catholic convert. This visually rich book illustrated by beloved artist Br. Mickey McGrath depicts the fascinating journey of her conversion to the Lord through nature and the beauty around her. Brother Mickey's paintings and sketches are illuminated by a series historical and inspiring stories exploring Dorothy's life's work of helping those in need. Dorothy's own inspiration, St. Francis de Sales, is also celebrated along the way with elements of his own spiritual wisdom about life, humility, patience, and other "little" virtues.
Thorpe, Julie Anne,  Aquinas Academy 1945­-2015 : a very personal Australian story. ATF Press, 2016. [378.07129 THO 2016]
This book tells the stories of women and men of the Aquinas Academy, a centre of adult education in Sydney founded in 1945 by an Australian Marist priest, Austin Woodbury. The book places the personal narratives within the social, cultural and intellectual landscape of Australian Catholicism spanning seven decades. Chapters trace the founding vision of the academy as a Catholic institution of higher education affiliated with Saint Thomas Aquinas's university in Rome, the expansion of programmes of adult spirituality across the eastern Australian states and the growing place of contemplative and mystical prayer in a church rediscovering its spiritual core. Combining archival research and conversations with former students and staff about childhood, war, family and the struggles to make sense of losses and loves, the Aquinas Academy is a story ultimately about adults learning to grow up.
Catholic Church
Hahn, Scott. Ordinary work, extraordinary grace : my spiritual journey in Opus Dei. [Cincinnati, OH] : St. Anthony Messenger Press,  2006. [ 267.182 HAH 2007]    
Scott Hahn, a member of the Opus Dei, a controversial organization of the Roman Catholic Church, presents the story of the organization, explaining its founding, mission, and influence and ultimately highlighting its importance and benefit to the Catholic community. (Also available as an audio book – CD Format)
Kelly, Michael (Editor). Tomorrow's church today : the way forward. Hindmarsh, SA. ATF Press, 2016  [282 KEL 2016 ]   
In Tomorrow's Church Today, five highly qualified commentators focus on what lies ahead for the Church to be reformed if it is to meet the challenges of the 21st Century.  The commentators include Massimo Faggioli, Geraldine Dougue, Robert Mickens, Bishop Geoffrey Robinson and Antony Campbell.
Catholic Schools
Rossiter, Graham. Research on retreats : the views of teachers and senior students about retreats in Australian Catholic secondary schools. Strathfield N.S.W. : School of Education NSW & ACT, Australian Catholic University, 2016 [269.83 ROS 2016 ] 
A general survey looked at the scope of retreats and retreat-like activities across the secondary schools. The survey of teachers who were involved in the conduct of retreats and the survey of senior school students showed how both teachers and students viewed the purposes and practices of retreats; this also highlighted similarities and contrasts between their views.
Catholic Church Year
Grimm, William J., author. In season and out, special feasts. ATF Asia : Hindmarsh, SA, 2016. [252.6 GRI 2016]
The Catholic liturgical calendar is replete with feasts and celebrations that may or may not fall on Sundays. In this volume, Fr William Grimm complements his homilies for the annual cycles (A, B and C) with homilies for feasts that occur each year – some on fixed dates like Christmas and others on variable dates like the Easter Triduum.
Christianity – World
Allen, John L., The global war on Christians : dispatches from the front lines of anti-­Christian persecution. New York: Image, 2013. [272.9 ALL 2013]
From Iraq and Egypt to Sudan and Nigeria, from Indonesia to the Indian subcontinent, Christians in the early 21st century are the world's most persecuted religious group. According to the secular International Society for Human Rights, 80 percent of violations of religious freedom in the world today are directed against Christians. Underlying the global war on Christians is the demographic reality that more than two-thirds of the world's 2.3 billion Christians now live outside the West, often as a beleaguered minority up against a hostile majority. The author exposes the deadly threats and offers investigative insight into what is and can be done to stop these atrocities.
Cadwallader, Robyn. We are better than this.  Hindmarsh, SA ATF Press, 2015. [325.21 CAD 2015]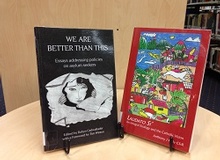 The Australian government's policy to t?urn back the boats and condemn asylum seekers to indefinite detention is an open and weeping sore. Government standing is undermined. Australia is condemned internationally. Over and over, Tony Abbott proclaims that the only measure of accountability is that the boats have been stopped, even when the price is physical and sexual abuse, profound psychological damage and death in detention centres. And on the sea, return to the dangers that so many have risked everything to escape. How do we stand by and allow this to happen? Why are not we all marching in the streets? How has the government so skewed the argument that the most needy, courageous and desperate people have become demonised? In this collection of essays lawyers Frank Brennan and Julian Burnside are joined by eminent thinkers, teachers and activists. They clarify the issues, explain the truth of the law, clear away the spin. Their words empower us with knowledge.
Kelly, Michael. On the edge : religious freedom and persecution across Asia. Hindmarsh, S.Aust. ATF Press, 2016 [261.72 KEL 2016]
Asia as a continent accounts for half the world's population. Within its boundaries, there is an incomparable diversity of cultures, socio-economic standards and political structures. And all the world's major religions—Hinduism, Islam, Judaism, Buddhism and Christianity—have their origins in Asia. Little wonder that religion is always involved in the flash points that occur across the region.
Religious freedom and religious persecution know no boundaries and are alive and well in all their complexions from Korea in the north to Indonesia in the south, from the Philippines in the east to Pakistan in the west.
This book examines and evaluates the prospects for religious freedom and the causes of religious persecution in Asia.
Luxmoore, Jonathan. The God of the Gulag. Leominster, Herefordshire, United Kingdom : Gracewing, 2016. [261.21 LUX 2016]
Drawing on accounts and documents in many languages, it examines the first phase of communist rule after the 1917 Russian revolution, when a ruthless campaign was launched to destroy all organised religion and redirect spiritual strivings towards an absolute subservience to the Marxist vision. It looks at how Christians attempted to defend the Church and witness to their faith as the communist dictatorship was extended under Stalin to post­War Eastern Europe.
Ecology
Kelly, Anthony,. Laudato si' : an integral ecology and the Catholic vision. Hindmarsh, SA:  ATF Press, 2016  [261.88 KEL 2016]
Pope Francis' Laudato Si' is a game-changing document for the life of the Church and the ecological health of this planet. A Catholic vision is deficient if it does not include the earth and its life-forms. Loving one's neighbour must include loving the planetary neighbourhood in which all live. For its part, the 'integral ecology' on which the Pope insists must include the dimensions of mind and heart, science and art, faith and the whole spiritual life of culture.
Parish Life
Dantis, Trudy.  A handbook for building stronger parishes : case studies, reflections, discussion questions, action plans. Mulgrave, Vic. Garratt Publishing, 2016. [254.0294 DAN 2016]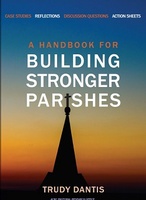 Trudy Dantis draws on her ground-breaking research into factors that lead to parish vitality to provide Australian case studies with down-to-earth examples of what can be achieved in eight key areas that lead to stronger parishes including: Planning; Spirituality and faith formation; Liturgy; Community building; Welcoming and hospitality; Outreach; Evangelisation; Leadership.  Whether you want to conduct a total parish renewal or focus on only one or two areas, A Handbook for Building Stronger Parishes provides excellent reflection questions, worksheets and action plans to support you and your parish team.  A vital resource for parish vitality.
White, Michael, Rebuilding your message : practical tools to strengthen your preaching and teaching. Notre Dame, Indiana Ave Maria Press, 2015 [254.5 WHI 2015]
A parish doesn't just communicate its mission from the pulpit. Teaching and preaching also happen in classes and small groups, in bulletins, on the church website and social media, and through volunteers who welcome visitors through its doors. In Rebuilding Your Message, Michael White and Tom Corcoran–authors of the bestselling books Rebuilt and Tools for Rebuilding–share dozens of strategies to help Catholic parishes establish and sustain excellent communications.
Mary Our Mother
Martini, Carlo Maria. The gospel way of Mary : a journey of trust and surrender. Frederick, Md. : Word Among Us Press, c2011. [232.91 MAR 2011]
In The Gospel Way of Mary, Cardinal Carlo Maria Martini takes us on a journey through Scripture of key events in the life of Mary. With keen and profound insight, he helps us see these familiar passages as a journey of trust and surrender not only for Mary but for us as well. This journey requires us to make a fundamental choice for God and make peace with his often mysterious ways. Martini reflects on Mary's night of faith as well as her emotional life, relating these to our own experiences of hardship and suffering. He concludes by showing how true Marian devotion can enrich our lives. For anyone who wants to deepen their understanding of Mary and their relationship with her. Encourages reflection and prayer on the challenges we face on our own path to the Lord.
Rosetti, Stephen (ed). Behold your Mother : priests speak about Mary. Notre Dame, IN : Ave Maria Press, c2007. [232.91 ROS 2007]
In this collection of inspriring reflections, ten esteemed priests share how their devotion to the Blessed Mother has supported their life and ministry. Though overlooked in recent times, devotion to the Blessed Mother has long been a foundational part of priestly spirituality. "Behold Your Mother" seeks to renew this practice for both younger clergy and those with years of priestly life. From stories of childhood devotion to the Blessed Mother to personal encounters with some of the great spiritual figures from recent times, these essays have both a personal and practical character that priests – and the laity as well – will deeply appreciate.
Sacraments and What We Believe
Wuerl, Donald W. The light Is on for you : the life­changing power of confession. [234.166 WUE 2016]
This books shows how the Sacrament of Reconciliation can heal us and bring us closer to God. Cardinal Donald Wuerl uses his gift for teaching the faith to discuss how best to examine our conscience, how to ask the Holy Spirit to reveal our sins to us, and why a regular prayer time is crucial in order to get the most out of Confession and grow in our relationship with the Lord. Scriptural examples as well as stories from the saints and from Catholics today help illustrate his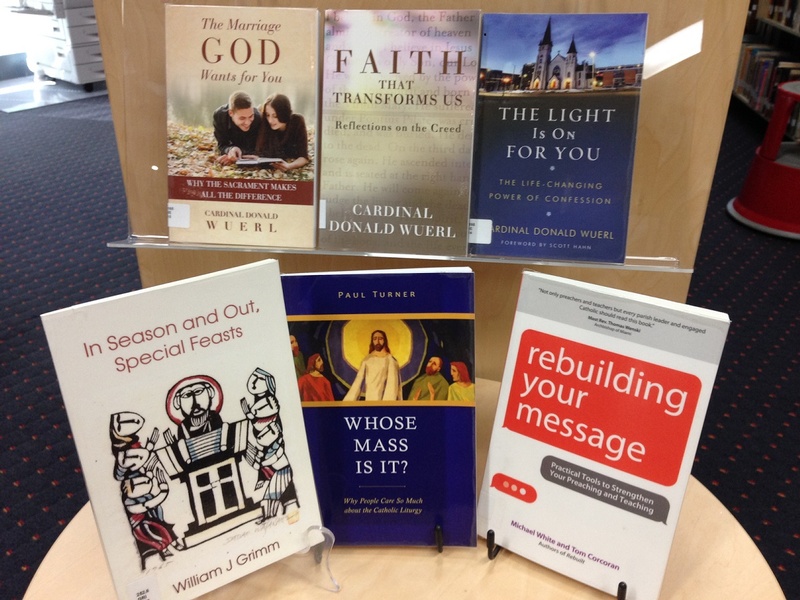 points.
Wuerl, Donald W.  Marriage god wants for you: Why the sacrament makes all the difference. Word Among Us Press.  2015. [234.165 WUE 2015]
Most people would agree that marriage today is in crisis. What is usually overlooked even by those married in the Church is that God intended marriage to be a sacrament. The Lord wants couples to rely on his promise to be present in their day-to-day lives, and he wants to give them the grace to live out a covenantal love that mirrors the love of the Trinity.
Rather than simply a defense of marriage, this book presents the good news about sacramental marriage. Cardinal Donald Wuerl uses his years of pastoral experience and his gift of teaching to give hope and courage to both engaged couples and those married for many years and to anyone thinking about the meaning or vocation of marriage
Wuerl, Donald W. Faith that transforms us : reflections on the Creed. Frederick, MD. Word, Among Us Press, 2013 [238.1 WUE 2013]
The truths of our faith are more than words they are living truths that are meant to make a difference in our lives. Every single revelation of God can be life-changing and transforming when we understand it, live it out, and share it with others. This book by Cardinal Donald Wuerl is a positive, uplifting, and joyful presentation of the basic truths of the Catholic faith. With its simple and clear format, it will help Catholics recognize the abundant life awaiting them when they embrace these truths. Each chapter examines a section of the Creed through the series of questions
Turner, Paul. Whose Mass is it? : why people care so much about the Catholic liturgy. [264.02036 TUR 2015]
When changes happen to the Catholic Mass, opinions are strong and diverse. Everyone feels in some way that the Mass is theirs. It is. Or is it? Whose Mass is it? And what should people do to claim it?
Whether or not adult Catholics attend Mass regularly, they strongly bond with it. Within a single generation, English-speaking Catholics experienced the Second Vatican Council's authorization for the first overhaul of the liturgy in four hundred years, and then, in 2011, they prepared for and implemented a revised vernacular translation. Each of these two events awakened strong feelings–and no small amount of lament from other Christian bodies who share the basic structure and content of the Roman Catholic Mass–as people gradually became aware that someone else's decision was going to affect the cornerstone of their spiritual life.
Haas, David, author. Music and the Mass : a practical guide for ministers of music. Second edition. Chicago, IL : Liturgy Training Publications, 2013. [264.2 HAS 2013]
A  basic guide to key documents and principles regarding the celebration of the Eucharist. It walks through the Mass, rite by rite and step by step, describing each part through Scripture, Church documents, and various other sources. The author also offers commentary about the meaning of each part of the Mass through the lens of liturgical music. Music ministers will be inspired and grow in their faith as they learn more about the celebration of the Eucharist and how they contribute to the "joyful song of praise" that is the Mass
Year of Mercy
Pope Francis.  The name of God is mercy. Unabridged. [CD 241.4 FRA 2016] – AVAILABE AS BOOK AND AUDIO BOOK
Read by Arthur Morey ? interview read by Fred Sanders. Drawing on his own experience as a priest and shepherd for his book, Pope Francis discusses mercy, a subject of central importance in his teaching and testimony, and in addition sums up other ideas­­reconciliation, the closeness of God­­that comprise the heart of his papacy. Written in conversation with Vatican expert and La Stampa journalist Andrea Tornielli, it is directed at everyone, inside or outside of the Catholic Church, seeking meaning in life, a road to peace and reconciliation, or the healing of physical or spiritual wounds.
Youth Ministry and Faith Formation
Pinto, Matthew.  Did Adam and Eve have belly buttons? : ­­and 199 other questions from Catholic teenagers. Rev. ed. West Chester PA : Ascension, 2013 [230.2 PIN 2013]
Addressing 200 questions on a variety of topics – from morality and doctrine, to the sacraments and other religions, to controversial issues of the da, this book counters the confusion and relatvisim of our age, offering both teens and adults alike compelling answers about the Catholic faith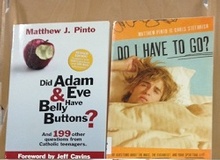 Pinto, Matthew. Do I have to go? : 101 questions about the Mass, the Eucharist, and your spiritual life. West Chester, Pa. : Ascension Press, c2008. [268.5 PIN 2008]
From playing video games to sleeping-in, teens can think of countless things they would rather do than go to Mass on Sunday morning. That is, unless they knew what they were missing. Do I Have to Go? explains the meaning and the mystery of Mass in such a way that teens will be asking, Why wouldn t I go? With wit, clarity, and common sense, Matthew Pinto and Christopher Stefanick answer the tough questions teens have about the Mass; from the rituals contained in the liturgy, to the doctrines of the Eucharist and the Priesthood. When teens understand that the Mass is literally the meeting place between heaven and earth there is nothing in the world that can keep them from it.
Parent, Neil A.  A concise guide to adult faith formation. Notre Dame, Ind. : Ave Maria , 2009. [268.434 PAR 2009 ]   
The author articulates his view that learning about the faith in adulthood is not merely an extension of basic childhood religious education, but is rather a continuous, lifelong process. Drawing from years of experience leading the National Conference for Catechetical Leadership, Parent combines Church teaching and adult learning theory to make this a must-read for pastors, catechists, and students in faith formation ministries.
Fini, Christian (Editor) Australian Catholic Youth Ministry : theological and pastoral foundations for faithful ministry. Mulgrave, Vic.: Garratt Publishing, 2014 [259.2 AUS 2014]
The experience of youth ministry in Australia is extremely diverse and challenging at times. Despite recent years of great collaborative initiatives and a growing vision, there continues to be a lack of contemporary resources for youth ministry formation written for Catholic youth ministry leaders working in Australia. This resource is a sharing of knowledge by those with expertise and experience in youth ministry to assist the personal formation and training of Australian youth ministers. It has been written to encourage and develop a culture of producing academic material to assist in the future develop.